Digital marketing has become the new face of marketing.
Marketing has always been about connecting with your audience in the right place, at the right time. Today, that place is online. Because online trends are ever-changing, we've gathered the top 5 most important digital marketing strategies businesses owners should be implementing into their 2017 marketing plan.
1. GET TO KNOW YOUR DATA
What is social data?
Social data makes up all forms of data consisting of interests, activities, Facebook likes, and location data. We collect data to observe and inform our marketing efforts and decisions.
There are many categories of social data. Traffic, results, trends, conversations, and performance data make up the most commonly collected information.  Each category expresses different benefits for the business owner.
Taking advantage of social data allows you to understand your audience, track campaigns, predict consumer behavior, and share the measure of your voice.
An analysis of your audience can reveal rich insights in the social data.
Where to obtain social data
You get your data from your social networks, like Facebook or Twitter. Social networks typically provide rich, detailed reporting.
Google analytics provides insights on your website, social networks, and research for ad words and keywords. This is an amazing tool that offers all the data you need to study your audience.
2. MEDIA
Video is the number one trend in media content right now.
"By the end of 2017, video content will represent 74% of all internet traffic." -Syndacast
There are three ways to tell a great visual story.
Use color to evoke emotion.
Demonstrate value.
Take customers behind the scenes.
Views = Results
Video ads increase purchase intent by 97% and brand association by 139%.
Live Video vs On Demand Video
People spend 3x more time watching Facebook LIVE video versus non-live video. Live video features real time experiences, behind the scenes, authenticity, and affordability. On Demand Video offers the ability to re-purpose, convenience, controlled production value, and usually higher quality.
3. THE GREATEST MARKETING TOOL OF ALL TIME
The Smartphone
79% of people use their smartphone for reading email which is a higher percentage than those who used it for making calls.
"Mobile optimization is the process of ensuring that visitors who access your site from mobile devices have an experience optimized for the device. " -Moz
Your audiences are almost always on their devices. The chance of your marketing efforts landing directly in your audiences' palms is at an all-time high.
How to use your phone as a marketing device
On your phone, you have the capability to use it as a media tool, a camera and an editing tool. You can take photos, edit them, and post them all from one device. You can also respond to reviews or reach out to customers on social networks. You can post status updates to bring attention to discounts, events, or relative, enjoyable content. Another important capability – email. Accessing email has never been easier.
4. SOCIAL CUSTOMER SERVICE
Gartner says that 90% of companies will supply customer care through social media by 2020.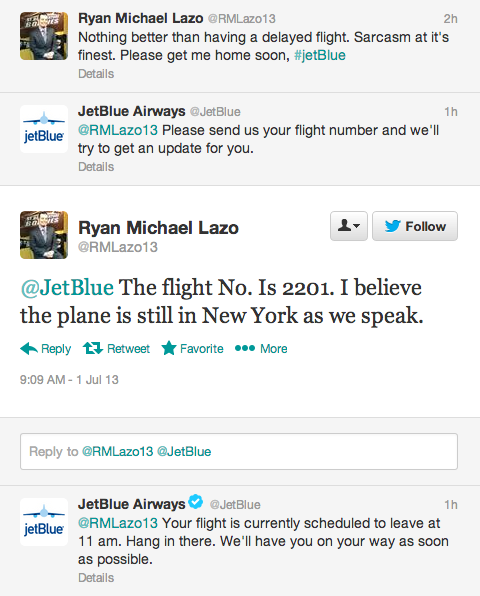 The options to get social customer service are available. Are you using them?
Facebook, Yelp!, and Twitter are just a few outlets that provide this growing service.
Make contacting your company easy by answering frequently asked questions, enabling live chat with your customers, an providing downloadable content for your customers.
5. EMAIL MARKETING
Email is NOT dead.
"Mobile email opens have grown by 180% in the last three years." -Email Monday
Email has a long history of stability. The first promotional email campaign was sent in 1978 to a total of 400 people, and has been growing consistently ever since.
90% of emails get delivered to intended recipient vs. only 2% of your Facebook fans seeing your posts in their Feeds.
Email marketing gives businesses an opportunity to bring subscribers in to their story to share top blogs, favorite videos, most liked pages, and inspiration. Email is also a good opportunity to promote discounts, sales, and events.

The Tools
The two most popular email marketing distribution tools are MailChimp and Constant Contact.
MailChimp provides a forever free plan for up to 2,000 subscribers and 12,000 emails sent per month. Then, the plan switch to paid email marketing service for a higher number of subscribers and emails.
Constant Contact provides a free trial that allows you to have up to 100 contacts and send an unlimited number of emails. After your free trial runs out, email marketing services start at $20.
Download the eBook
Now, you have a brief understanding on how to accelerate your marketing success by utilizing this year's top marketing trends. Download the free eBook to learn more details about these trends and how to implement them into your marketing plan.
Download our Digital Marketing Trends eBook and discover how-to:
1. Use your social data to its fullest potential.
2. Incorporate video to increase brand awareness and retention.
3. Utilize the greatest marketing tool of all time.
4. Make customer service pain-free.
To better keep up with marketing trends, follow us on social media @JumpCrewCo.
How effective is your social media marketing strategy? Let us run a report.
Contact us today for a free social media audit!